Pandora Universal app looks great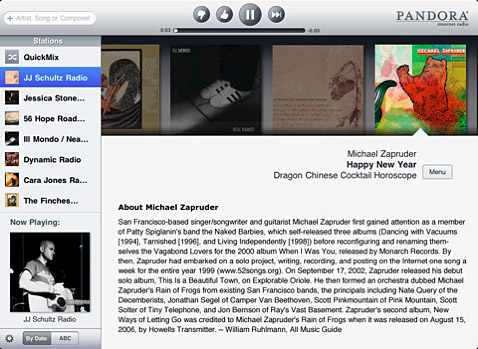 With the iPad launching tomorrow there are a lot of apps to get excited about, not the least of which is Pandora. Pandora has been a huge success on every mobile platform. It's also saved me from many a dull road trip with a virtually limitless pool of musical styles. The app got an update this week to include the iPad version and it looks great.
The update includes a large screen version for the iPad, making the artist description and album art that much more accessible. The update also adds album artwork for every station and improves streaming for quicker song selection and less service dropouts. I gotta say, I've never had serious problems with streaming, though it does occasionally seem slow, so the improvements will be great.
The really nice thing for the iPad is that everything is on one screen. There's no flipping back and forth for stations and artist info and all that. The new app seems focused on users getting to know the artist's their browsing which will be great for Apple with iTunes integration.