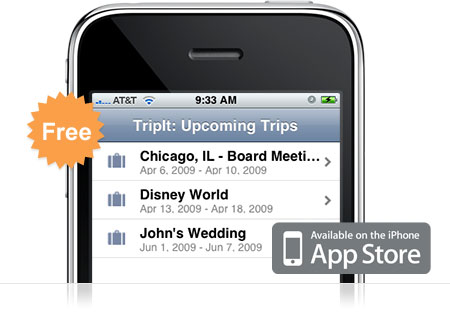 If you travel… ever… you need TripIt. TripIt is amazing. It's a free app for your iPhone that keeps all of the information for your upcoming travel itineraries organized and easily accessible from your iPhone. The description says it all:
Use your iPhone to access your TripIt itineraries whether you're online, offline or in airplane mode.

TripIt is the best way to organize and share your travel plans. Forward your travel confirmation emails to plans@tripit.com, and TripIt automatically creates a master itinerary for your trip, with detailed information about flights, hotels, rental cars and much more. It also includes maps, driving directions and local weather.
I use TripIt all the time. And it's so easy. Here's an example of how sweet it is. I booked a flight in June for a 10 day trip and forwarded the itinerary to plans@tripit.com. Immediately the trip showed up on my phone and on the website. Great, right? Well, I actually didn't book our rental car at the time. We weren't sure of the details on that yet so we decided to wait. Well, a couple weeks later, we reserved the rental car. I again forwarded the itinerary to the email address. This time I was worried. I thought that I'd have to do some fancy finagling to join the two trips together so I wouldn't be going back and forth between one trip and the other to keep track of my stuff. To my surprise however, TripIt automatically noticed the car rental was for the same dates and same airport codes as my previous trip and then joined them together. Sweet!
So now, every time I travel, I have my flights, car rental, and hotel information in one place. I also get driving directions and flight status with just a tap on the phone. Pretty much everything you need to get from point A to point B is right there in your hands without digging through emails and printing out a bunch of stuff.
Go ahead and download the free TripIt app and sign up for an account online. You'll be glad you did when you take your next trip.
Posted in: Apple, Apps, iPhone, Mobile
Tags: best apps, best free apps, best iPhone apps, free iPhone apps, iPhone apps, tap dat app, tripit, tripit app, tripit iphone app